Hawaii Vacation … with 6 islands and hundreds of accommodation choices, how will you know what is best for you?
Relax, we've done this for 30 years and can help you figure it out.
You are getting ready to spend thousands of dollars ($$$) on your Hawaii vacation… why not guarantee it is money well spent?  You can, with a custom designed vacation by a Hawaii expert at Hawaiian Travel.
Frustrated & confused trying to plan your own Hawaii vacation … and the only thing you've figured out so far is  'this is not as easy as I thought it would be'? As Certified Hawaii Vacation Specialists with 30 years experience planning Hawaii only vacations, we offer unbiased advice from our personal experience and island knowledge.
Be a hero to family ! We'll plan a totally awesome Hawaii vacation that will surely please your family with 'your amazing vacation skills'… we can be your best-kept secret.
Think how nice it would be to have a true Hawaii expert plan it all for you, guaranteeing you the Hawaii vacation of your dreams, and at the best value.
You just did… welcome to Hawaiian Travel®.
Who We Are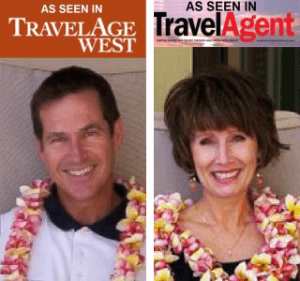 As Certified Hawaii Master Specialists, we are full time 'Hawaii only' vacation consultants, who know the islands inside & out and help our clients make wise buying decisions.
There are literally hundreds of online sites where you can book travel these days … sites that are more than willing to take your money and then expect you to figure everything out on your own. BUT, how are you going to know that you are picking the best options and getting the best value? You won't, but we will.
If you are ready for some advice you can trust – then allow us to assist with your travel plans. Our Hawaii experience is guaranteed to enhance your Hawaii experience.
Benefits Our Clients Experience
Personalized Vacation Planning from real Hawaii experts who will custom-design your trip itinerary and do all the research and planning – saving you hours of frustration.
Know what to see & do – even which restaurants to try. Booking flights and hotels is just one piece of the puzzle. Knowing which luau to attend, which snorkel cruise, which helicopter tour… these are very important factors to a memorable vacation.
Know before you go… with our extensive Hawaii travel tips and packing checklist, you will be well-prepared for travel.
Work one-on-one with your personal Hawaii specialist who knows the islands inside out and can answer your questions from personal knowledge and experience. They will guide you through the entire process, and confirm all arrangements (e.g. flights, hotel, car rental), guaranteeing a well-planned vacation.
A VIP message from Hawaiian Travel® to your hotel, requesting special amenities and/or room upgrades – from the friendships we have developed working with the hotels over the years, our clients receive special treatment.
And, most importantly, you will have someone to call or email with questions, who is there to help before, during and after your trip.
Enjoy a hassle-free, stress-free Hawaii vacation – and have a totally awesome experience.