HAWAII VACATION PACKING TIPS
FROM THE EXPERTS AT HAWAIIAN TRAVEL®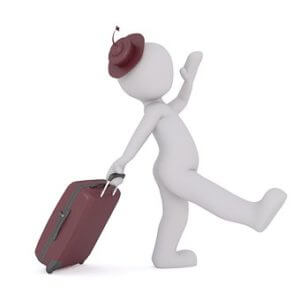 Aloha. Hawaii vacation packing tips is one of the top requests we receive when helping clients with their Hawaii vacation plans. Though Hawaii is a warm weather, beach destination, and everyone thinks of packing shorts, swimsuits and flip flops ('slippahs' in Hawaii), the following Hawaii packing tips are practical suggestions to help ensure you 'don't leave home with out it', and that you are well-prepared for your Hawaii vacation. 
Pack any medications in the original bottles.
Don't forget sunscreen – 30spf or higher is best. The sun in Hawaii is intense and a sunburn can ruin a vacation fast. If you do get too much sun while in Hawaii, try rubbing Milk of Magnesia on the sunburn and leave on for 15-20 minutes, then rinse – this will help relieve the pain.
Casual is the attire in Hawaii – there are only a few restaurants that require jackets for men. You will likely find that you will have dinner in the shorts you already have on. Grab a copy of our packing check-list to ensure you do not forget any essentials like a swimsuit, sun visor or hat, and comfortable walking shoes / sandals.
Remember thy swimsuit! Even if you have stinking thinking like 'no way am I getting into a swimsuit' or 'I haven't been in a swimsuit in years, and it's not happening',  once you arrive Hawaii and see all the other sizes and shapes parading around in a swimsuit, you will let down your guard and want to go swimming also. Just keep in mind that these people don't know you, and you will most likely never see them again. 
Pack your phone and other electronic device chargers, and note that Hawaii is now 'hands free while driving' – no electronics of any kind (even picture taking with your camera or cell phone) while behind the wheel.
Take an extra memory card and battery for your camera. There is nothing more frustrating to be taking pictures of gorgeous scenery and your battery goes dead, or your memory card is full.
Try packing each day's outfit together – this saves time figuring out what to wear each morning and ensures you don't end the trip with shorts and tops that do not match … unless you would like to use that as an excuse to shop.
Speaking of shopping, do not go out and purchase a lot of clothing or swimsuits before your trip to Hawaii … once you're in the islands and see all the unique island wear & swimsuits, you will want to shop there. It is also a good idea to save extra room in your suitcase for your new purchases, or take a spare bag.  
Try rolling your clothes before packing, it saves space and prevents wrinkles. Stuff socks inside shoes to save room and keep shoes from being smashed during travel. Take an extra bag to put your dirty clothes in to bring home.
If you pack necklaces, try stringing them through a drinking straw to keep them from getting tangled.
Take a light windbreaker jacket or sweater for the evenings and the higher elevations. Nighttime and early mornings in Hawaii can be chilly, especially with an ocean breeze … also some of the higher elevations (e.g. Haleakala on Maui, Waimea Canyon on Kauai, Volcanoes National Park or Mauna Kea on Hawaii Island), are much cooler. For every 1000 ft. you ascend, the temperature drops an average 3.5 degrees … the summit of Haleakala on Maui is 10,023 ft. high.
Remember the 3-1-1 liquid rule for carry-on bags when flying. Liquids, gels, aerosols, creams and pastes must be 3.4 ounces (100ml) or less per container; must be 1 quart-sized, clear, plastic, zip-top bag; 1 bag per passenger placed in the screening bin. The quart-size bag limits the total liquid volume each traveler can bring.  Place the bag in an outside pocket of your carry-on so it will be easily accessible as you go through TSA screening. You may declare larger liquids. Medications, baby formula/food and breast milk are allowed in reasonable quantities exceeding three ounces, and they don't have to be in the zip-top bag. Declare these items for inspection at the checkpoint. TSA officers may need to open them for additional screening. More detailed information may be found at http://www.tsa.gov/traveler-information/3-1-1-liquids-rule
If in doubt, put your liquids, gels, aerosols, creams and pastes in your checked baggage. Be sure to double bag (or even triple bag) liquids and gels you pack in your checked bag, and make sure each top is securely closed. The air pressure during flight causes items to leak, and you don't want to arrive at your hotel to find your clothes are covered in lotion or shampoo. Most hotels provide travel size shampoo, conditioner, soap or shower gel, and body lotion.
Always pack a change of clothes in your carry-on bag, just in case your bag is misplaced by the airline. It is also a good idea to split your clothes with your traveling partner – this way, should either of your bags get lost, at least you will have some of your clothes.
Pocket knives, knives of any kind, metal finger nail files, knitting needles and such are prohibited in your carry-on bag. For more information on prohibited items, visit http://www.tsa.gov/traveler-information/prohibited-items
Frequent travelers should consider applying for TSA Precheck currently at $85pp (or Global Entry at $100pp if you travel internationally). Either will allow you to avoid the long security lines at most U. S. airports by going through the TSA PreCheck line which is typically much shorter – plus you'll be exempt from removing your shoes, belts, light jackets, laptops and your 3-1-1- liquids as you pass through airport security.
With most airlines, you are allowed one personal item (e.g. purse, briefcase) and one carry-on bag to take with you on the flight. Be sure to keep all important travel documents, cash, credit cards, jewelry, cameras, medications, etc., with you and never pack these items in your checked bag. Visit your airline's website for their carry-on bag information – this is American Airlines / United Airlines / Hawaiian Airlines / Virgin America / Delta Airlines
It is wise to leave any expensive jewelry home and locked up. Invest in an inexpensive wedding ring to travel with – do you really want to risk losing your wedding ring while swimming or snorkeling?  
If you do not already have smaller size bottles of shampoo, lotion, sunscreen & conditioner, purchase some small containers at the dollar store if you must take your own toiletries – packing full size bottles can make your luggage quite heavy.
The weight limit on checked bags is 50 lbs. Unless you have a special TSA approved lock for your bag, do not lock your checked bags – it must be available for a TSA agent to open and check the contents. Check your airline's website for more detailed checked bag information – see above links for baggage policies. 
Any wrapped presents are subject to being opened to check the contents, so take a gift bag or wait to wrap the gift until you arrive at your destination.
Take an extra bag (like a lightweight duffle bag), or leave plenty of room in your checked bag or carry-on to bring home purchases you make in Hawaii. You will most likely shop while in Hawaii and return with more than you started with.
If you plan to do any hiking in Hawaii, especially on Kauai, you will want to take old shoes – you may actually end up throwing them away after hiking – Hawaii's red dirt/mud will not wash out. Same with socks & hiking clothes.
If traveling to Hawaii between December and April, take a pair, or two, of binoculars for whale watching. February  and March are the prime whale watching months. 
It is wise to include your name and phone number inside your luggage as well – often times, the outside bag tags get torn off during travel.
After packing, take photos of your luggage inside and out —just in case your bags are misplaced during travel, this will help the airline identify your bags.
Before you leave for Hawaii, contact your credit card companies to advise you will be traveling to Hawaii and to note your account, so they do not decline any charges due to 'unusual activity'. If you are traveling with a debit card, contact your bank to advise you will be traveling to Hawaii and find out what your daily limit is, and if needed, ask for an increase on the daily amount. Though you may have a gazillion dollars in your bank account, if your card is a debit card, the banks impose a daily limit, so find out what it is before you travel.  
Visa and Master Card are widely accepted in the Hawaiian Islands. American Express & Discover Cards are NOT widely accepted, and some small shops or restaurants require cash only. 
We always take plenty of $1, $5, and $10 bills for tipping in Hawaii. We normally leave $3 to $5 per day on the bed for hotel housekeeping, you'll also want to tip the hotel bellmen, car valets, and tour guides. 
After you return home from your trip, for the next month or two, keep an eye on your credit card statements for any unauthorized charges.
Before traveling to Hawaii, learn some basic Hawaiian words and their pronunciation at http://hawaiian-words.com/
What Not to Take to Hawaii
As much as you love them, and  as much as they want to go, you are not allowed to bring your pets to Hawaii.